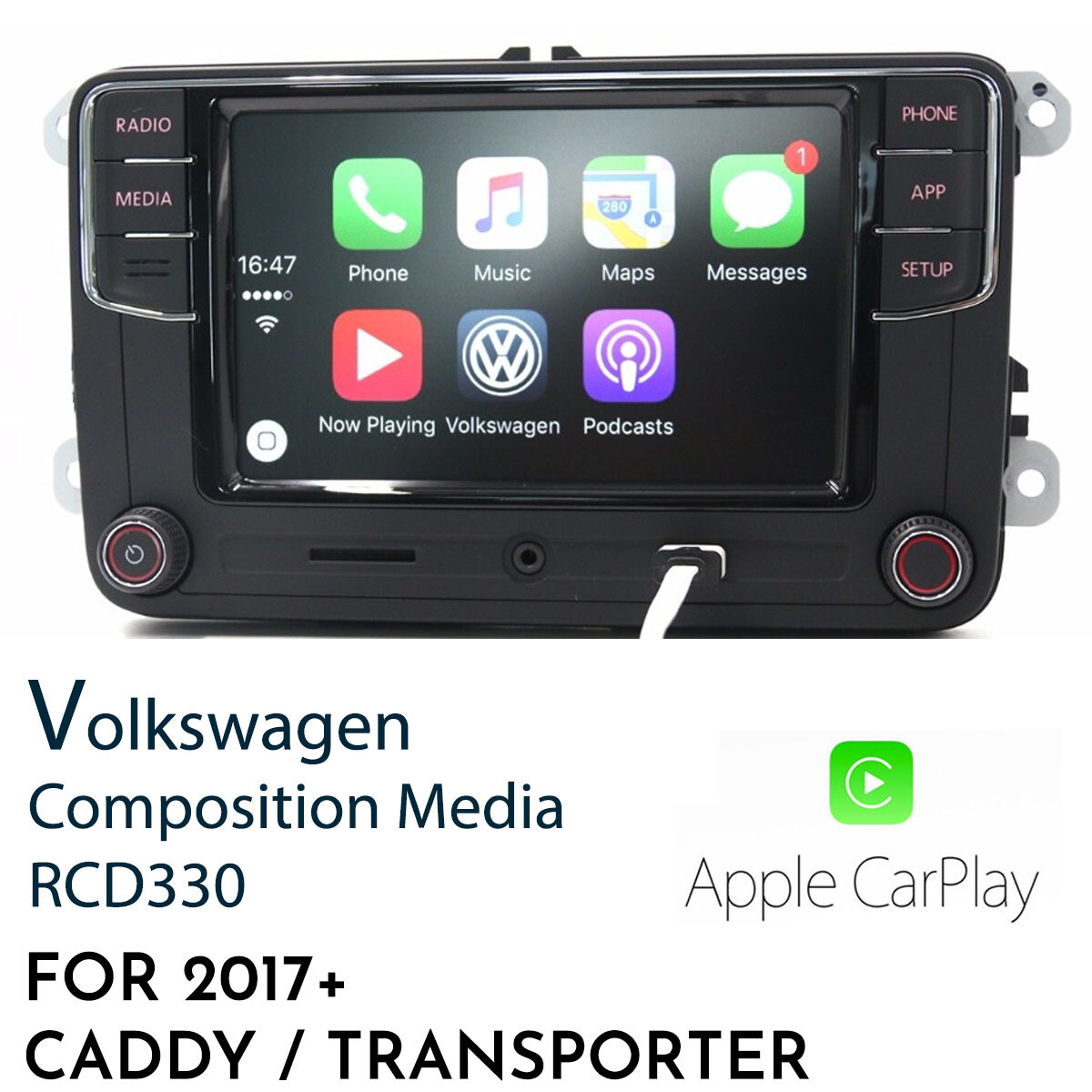 RCD330G Apple CarPlay Replacement headunit for Commercial VW - Caddy & Transporter and Amarok
SKU RCD330G_CPK
Product Details
*Reversing Camera Compatibility:
Reversing Camera can be activated via coding / comes with coded upon request.
The RCD330 units have CVBS Camera input, whilst majority of Factory fitted camera of VW had RGB video out.
Having said that, most of factory fitted cameras ARE NOT COMPATIBLE, and will need to install new replacement camera
that will use CVBS also.
---
Built-in Apple CarPlay (Wired type - above image was 'demo mode')

Although does not have built-in Sat Nav, It has Apple CarPlay which allows iPhone to be connected via USB, and bring up
compatible apps from phone to the audio screen, and direct control is available.
Supports Phone / Music / Message / Apple Map and other apps like Spotify, Google Map, Waze, Podcast, iHeartradio and more.
For those vehicles with Idle Engine On / Off
The feature itself won't damage the headunit, however in terms of usage within CarPlay,
It will go through constant connect / disconnect of the phone and audio's sync
Which may result an error down the track, hence It's best to use without the Idle Engine feature.
---
Notes:
- Although our system is fairly DIY and do not need of additional coding if this unit gets fitted without any further accessories or upgrade, We'd still recommend you to get it fitted by
proper auto electrician, for proper performance.
- If you need further information, please do not hesitate to contact us via email.
- Some units may have minor scratch on side / back of the unit, but it won't have any damage on face of the unit.
- This unit comes with CarPlay Only, not Android auto.
- Units are all new unit, never been used.
---
Refund / Warranty and Replacement:
We provide 12 months warranty for our products.
And from the day of receiving the system, you must inform us if you'd like to refund or claim for Warranty replacement within 7 days, along with reason of request.

For the replacement, in event of our product needs to be replaced to a new system, we request to return the product to us, at buyer's cost.
And once we receive the system we will commence testing and firmware update for the system if required - It will take up to 1-2 days.

Up on simple update fix / replacement confirmed , will dispatch it back to customer at our cost.
Yet we always do a pre-testing prior to dispatch in first place, to minimize this kind of event.
For the Refund / Return:

Condition / Duration & Restock fee

1 - 7 Days
14 - 30 Days
Over 30 Days
Product not opened / Not used
Full refund ex.shipping.
Up to 10% of restock fee depends on condition
We don't accept return
Product that has been installed*
(Product warranty still applies)
Up to 25% of restock fee,
depends on condition.
We don't accept refund request, yet we do provide
warranty service.
We don't accept return
Once we receive the product back to us, we will test the unit with our system to check whether it has been used or not - via checking If It stored Car's Data signal.
Also, the Refund will be strictly based on 'product price', we do not provide refund for shipping / Installation labor etc.

Save this product for later