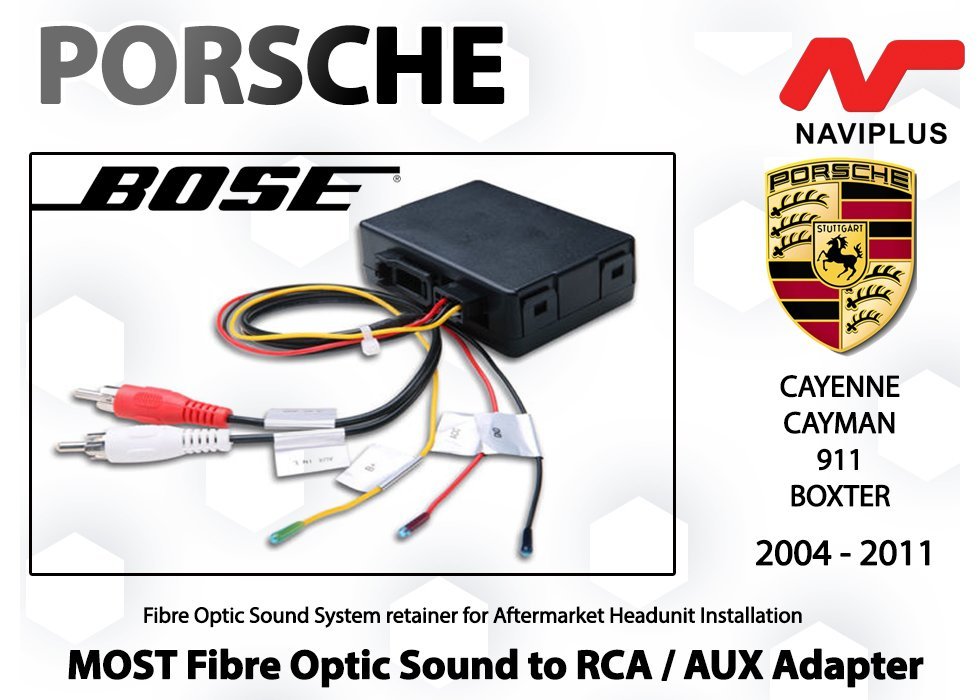 Porsche BOSE Sound MOST Fibre optic Sound Adapter for Aftermarket Headunit
SKU MOST_PBOSE
Product Details
Fibre Optic Sound Converter / Adapter for Porsche's BOSE Fibre Optic Premium Sound system.
---
What It does:

This Fibre Optic Sound adapter allows any aftermarket Car audio headunit, to be installed on compatible vehicle with a Premium Sound System that runs in Fibre Optic - a.k.a MOST Sound System.
With this Adapter Interface, the whole sound system will be compatible with new aftermarket headunit, allowing every speaker & amplifier to play sound from the new unit.
---
Compatibility:
Almost every BOSE Sound system of Porsche are compatible.

Yet best to check year model and actual Fibre Optic cable connections from amplifier / audio.
---
Compatible Car List:

Cayenne
Cayman
911 / 997
Boxter
Those with BOSE Sound system with / without PCM Audio.
---
Notes:
- Our system DOES NOT make your system Fibre Optic sound system.
- Our system DOES NOT update nor upgrade your Fibre Optic sound system.
- Our system is ideal for aftermarket headunit to be fitted, whilst allowing it to play sound via entire speakers and amplifiers, without doing all those wiring works.
- Best to check with us if you aren't sure whether your car has BOSE / or any sort of Fibre Optic in your car.
---
Refund / Warranty and Replacement:
We provide 12 month warranty for our products.
And from the day of receiving the system, you must inform us if you'd like to refund or claim for Warranty replacement within 7 days, along with reason of request.

For the replacement, in event of our product needs to be replaced to a new system, we request to return the product to us, at buyer's cost.
And once we receive the system we will commence testing and firmware update for the system if required - It will take up to 1-2 days.

Up on simple update fix / replacement confirmed , will dispatch it back to customer at our cost.
Yet we always do a pre-testing prior to dispatch in first place, to minimize this kind of event.
For the Refund:
Condition / Duration & Restock fee

1 - 7 Days
8 - 30 Days
Over 30 Days
Product opened but Not used
10% of Total price
20% of Total price
We don't accept return.
Product not opened and Not used
No charge
5% of Total Price
15% of Total Price
Product that has been installed*
(Product warranty still applies)
30% of Total Price
We don't accept return
We don't accept return

Save this product for later